Stuck? Need help? Contact our world-class customer support by chat or by phone.
Chat
For support without leaving this very page, click Chat Now in the upper right hand corner of the screen.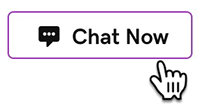 If you don't see Chat Now, live chat isn't available at the moment and you should call us for further assistance.