In Calendar, groups represent various teams or work groupings that share common events and resources. In the example below, Marketing and New Products are groups created by members of those teams.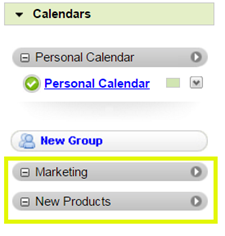 Groups can contain these types of calendars:
Group calendars let you share scheduled events among Calendar members. For example, group calendars work well for teams that regularly attend the same events. Only members of a group can schedule events for that group.
Resource calendars let group members schedule resources, such as meeting rooms or equipment. Scheduling a resource for an event reserves it so others in your group can see it is in use.
Next steps
More info