There are two different types of social media tools that Email Marketing offers. The first are your Social Icons (a.k.a. Social Links). And the second are your Social Share Buttons.
Social Links
The Social Icons or links, are added through the Social option, under the Addons menu. These connect your subscribers to your social networking profiles, and show up at the bottom of your campaign.

Note: You can also add these Social Icons in, anywhere else you want, by using a Email Marketing shortcode.
Social Share Buttons
But the Share Buttons, on the other hand, show up at the very top of your emails, when you send them. They look like this: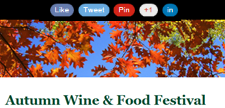 To place these buttons there, you have to hit Send for that campaign, and tick the social share options that you want to include, on the Details page. Read more about both options, here.
More info