You've already seen those Include and Exclude buttons, when you send a mailing from your account. Read on to learn more about using them for including and excluding lists from your sends.
Including Lists in a Mailing
The Include button is pretty straightforward. Click on this toggle button to include that specific list. Your mailing will be sent to everyone on any included list.
Do not worry! Email Marketing will only send a single email to all those folks. It won't send duplicate emails in a given mailing, even if you have overlaps between lists you've included.
It's important to keep in mind that Email Marketing will NOT send the email to anyone who is NOT on a list you've included. It will only ever send to the people you deliberately INCLUDE in your mailing.
Excluding Lists in a Mailing
On to the Exclude button, now. If you toggle the Exclude button, on any list, Email Marketing will make sure to NOT send anything to anyone who is on an excluded list. Even if they are ALSO on an included list. You should only use the Exclude button in cases where you have overlap between multiple lists, and you want to make sure to NOT send to anyone on an excluded list.
Some Examples of Including and Excluding
Let's say you have two lists of subscribers: "New subscribers" and "Purchased". And you want to send an email to all of your new subscribers only, telling them about a cool new perk. When you send the mailing, make sure to click Include on your list "New Subscribers". That's it. That email will be sent to your entire "New Subscribers" list, and no one else:

Now let's say you want to send a follow-up email to that same list, but you want to make sure NOT to send it to anyone who has also purchased something, already. When you send your email, make sure to include "New Subscribers", but click Exclude for your list "Purchased". Your email will be sent to everyone on "New Subscribers", but not to anyone who is also on "Purchased":

You can always double-check your selections on the right of the page. Under the thumbnail of the campaign you're sending, your list selection choices will preview as well: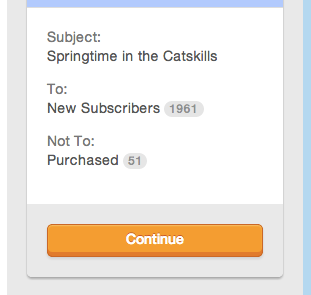 And you can always review all of these settings, at the very last moment, right before you send off the mailing. Here, Email Marketing will even do the math for you, and tell you the total number of recipients for this mailing. This is done by subtracting all the folks from the lists you've excluded, who are on any lists that you've included.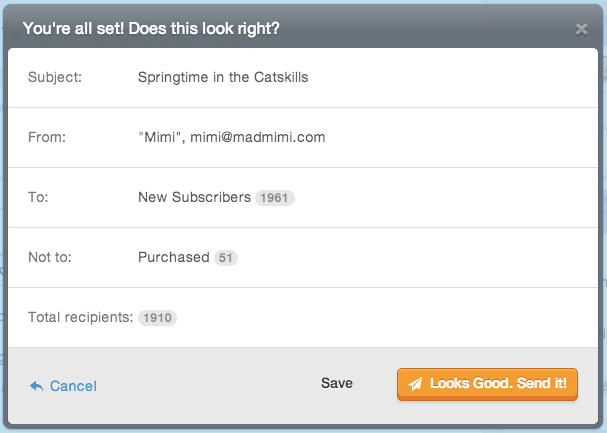 My Mailing Sent to 0; Why?!
It's entirely possible that you excluded too many lists. Meaning, if you've excluded lists that are all overlapping with your included lists, then there's no one for Email Marketing to send the mailing to. It's really important that you only use the Exclude button when you know for sure there is an overlap, and you want those overlapping people to NOT receive the mailing.