When working on a campaign, always make sure to save your changes! Save early, save often!
Just click Save in the upper right corner, to the left of your Campaign Title.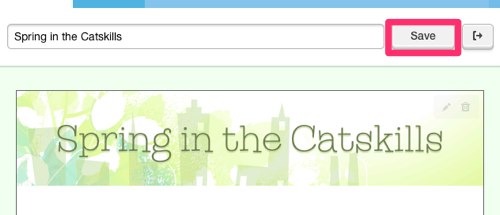 The Save button will change to display the word Saving... in gray, after you click. This is how you know that Email Marketing is working on committing all your wonderful changes! The button will reappear once the email campaign has been successfully saved.
It's important to also notice the timestamp, in the far upper right of the composer page. It's right next to the Preview button, and will show the exact time and date that this campaign was last saved.
This does not happen often, but if that timestamp doesn't update when you click the Save button, then just try again. If it's still not updating, there's a problem with your connection to the server. Try to save as much of changes in outside text-editing program as you can. You can try again in a few minutes, but once that connection has been interrupted, you may have to restart your page to re-establish it, losing your changes.
Related Topics:
Previewing a Campaign
Learn More About the Composer
Finding Existing Email Campaigns