The Subscription Preferences addon gives your contacts the ability to manage email subscription preferences, on their own. When the feature is enabled, all email newsletters will include a Preferences button, in the footer of your email, along with the normal Unsubscribe and Web View buttons.
With the Preferences button, your readers can update info like email address, name and list subscriptions. You'll always have total control over which lists are available for subscription management, too! If you don't want your readers to be able to change their list memberships, simply don't include any lists, at all.
How To Set Up Subscription Preferences:
1. Click on Addons at the top of any page. Choose Add more.
2. Turn on the Subscription Preferences option.
3. Click Go Set It Up
4. If you want to give your readers the ability to unsubscribe, or change their list memberships, themselves, then select any list on the right. It will move to the center, and it will be included in the subscription management options. All active Subscription Management lists will appear on the left.

4. Once a list is selected, you can edit the Public Name that your readers see.

5. You can also delete a list from the Subscription Management choices at any time.

How It Works In Your Email Newsletters:
Once you send a campaign, the button appears in the footer, near the unsubscribe option.
Readers see a page with all the details available for management.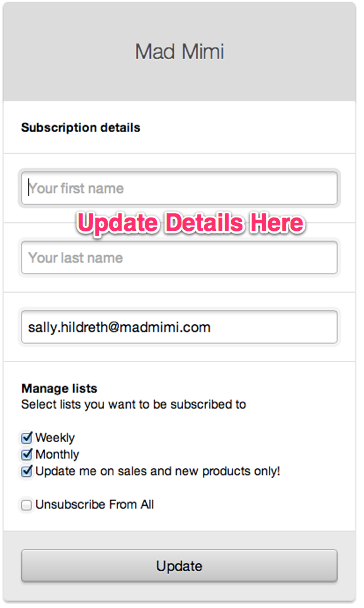 First Name, Last Name, Email address, and list subscriptions can be updated by readers at any time.
Use the Campaign Tweaks option to change the location of your subscription details button. You can place it at the top of your email newsletter, in the footer, or in both spots!
Read about Display Names for another way to give your subscribers (or rather, unsubscribers) list choices!