Note: The Worker Plugin for Pro Accounts is required in order for backups to run. (Pro accounts are available in the U.S.A. and Canada.)
Although we provide automatic daily backups, you can initiate a manual backup of your Pro Managed WordPress site using the instructions below.
Log in to your ITEGY account.
In your My Products page, next to Managed WordPress, click Manage All.
For the website you want to use, click the three-dot icon and select Settings.

On the next page scroll down and select Manage in the Backups section.

On this page you can select Backup Now to initiate a backup your current site's configuration.

Note: Backups are only available for active Managed WordPress plans. If the plan is removed due to failed billing you will need to restore from local backups or contact support for additional options.
In this section you can:
Initiate a Backup
See the Latest and Next Backups including their time
View the Storage Region
Manage the time in which the backup occurs for the site
View the Backup History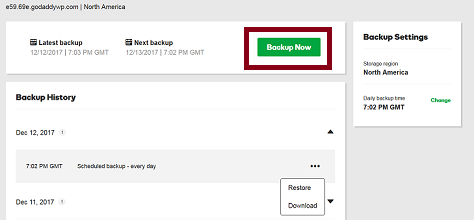 Select the Backup Now option to initiate the website backup. To learn more about managing your backups, select the link below in the Next Steps section
Next steps
More info